Panduan Mudah Berbelanja di UBSLifestyle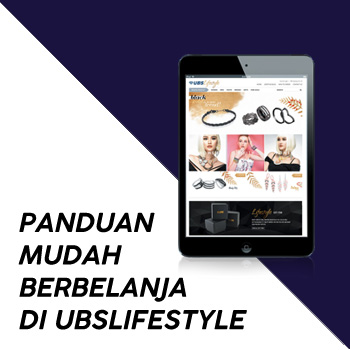 Belanja di UBSLifestyle tidaklah sulit jika Sahabat Emas mengikuti langkah-langkah berikut.
Masuk ke halaman website UBSLifestyle
Pilih Login jika Sahabat sudah memiliki akun di UBSLifestyle. Jika belum memiliki akun, silakan Daftar terlebih dahulu. Untuk informasi lengkap mengenai cara Daftar di UBSLifestyle, bisa dibaca lengkap di Panduan Pembuatan Account
Jika Sudah Login atau Daftar, Sahabat bisa langsung memilih perhiasan yang ingin dibeli.
Setelah memilih perhiasan yang ingin dibeli, Klik Add to Cart

Setelah klik Add to Cart, Sahabat akan melihat menu View Cart di bagian atas. Lihat gambar berikut.

lalu klik View Cart untuk lanjut ke proses selanjutnya. Tapi jika Sahabat ingin melanjutkan berbelanja, Sahabat bisa mengabaikan menu tersebut dan kembali memilih perhiasan selanjutnya yang ingin dibeli.
Setelah klik View Cart, Sahabat akan dibawa ke halaman berikut.


 

Isi kolom Promo Code jika Sahabat memiliki kode promo. Tapi jika tidak, pilih Proceed to Checkout untuk melanjutkan proses belanja

Setelah klik Proceed to Checkout, Sahabat akan menemui halaman seperti pada gambar berikut. Silakan isi dengan lengkap nama, alamat dan nomor telepon. Lalu klik Continue to Payment

Pilih metode pembayaran yang Sahabat inginkan. Ada 2 metode pembayaran yang tersedia di UBSLifestyle, yaitu, Credit Card dan Transfer Virtual Account BCA. Jangan lupa juga untuk memastikan data-data Sahabat. Jika sudah terisi dengan lengkap dan benar, Sahabat bisa mengakhiri proses belanja dengan klik Place to Order. Dengan begitu, proses belanja Sahabat sudah selesai dan Sahabat bisa langsung menyelesaikan pembayaran.
Untuk tutorial lebih jelas bisa dicek di video berikut
Tutorial Belanja di UBSLifestyle