UBS Gold bersama Disney Tampil di Jakarta Fashion Week 2019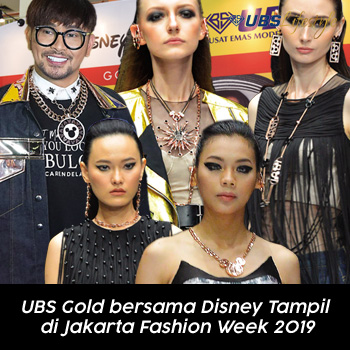 Sebagai pemegang lisensi resmi perhiasan emas Disney, UBS Gold turut merayakan Disney Mickey 90th Anniversary yang digelar serentak di seluruh dunia. Salah satunya di Jakarta Fashion Week (JFW) 2019 melalui dua show. Yakni, Disney Mickey 90th True Original pada 22 Oktober 2018 dan Disney & UBS Gold Evolution of Fun pada 26 Oktober 2018 di Fashion Tent, Senayan City.
Dalam show pertama pada 22 Oktober 2018, bertajuk Disney Mickey 90th True Original, UBS Gold menghadirkan celebrity fashion stylist yang juga brand ambassador UBS Gold Carendelano untuk menciptakan gaya bersama fashion designer Yosep Sinudarsono.
Gaya mereka terinspirasi pesona warisan Indonesia (Indonesian heritage), yaitu Kerajaan Majapahit, yang dikolaborasikan dengan karakter serta nilai-nilai Mickey Mouse untuk menciptakan koleksi perhiasan emas avant-grade yang bernilai masterpiece. Koleksi-koleksinya berbalut warna kuning emas sebagai lambang kebahagiaan dan umur panjang serta hitam swarovski Zirconia sebagai lambang warna Mickey yang true original di mana awalnya Mickey Mouse lahir dari warna hitam putih.
Kemewahannya tersirap dari bentuk perhiasan Kerajaan Majapahit seperti kalung bertumpuk, bangle besar emas, anting wayang, hiasan kepala dengan sentuhan hidden Mickey atau bentuk kepala Mickey yang menjadi ornamen penting dalam perhiasan yang melambangkan otoritas raja. Sebab, selain menjadi karakter Disney yang pertama, Mickey memiliki jiwa pemimpin.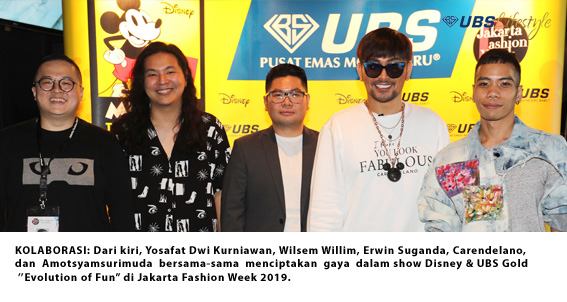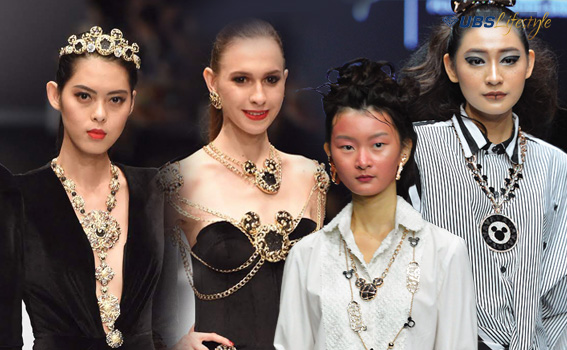 Tampilan akhir Carendelano dan Yosep Sinudarsono di runway Jakarta Fashion Week berhasil menarik perhatian. Warna hitam dipilih sebagai inspirasi karena sesuai dengan warna tubuh Mickey. Sementara itu, garis-garis rancangan baju Yosep yang modern dan feminin sangat cocok dengan konsep kemewahan kerajaan dan twist kekinian.
Dalam show kedua pada 26 Oktober, Disney & UBS Gold Evolution of Fun, UBS Gold kembali menampilkan celebrity fashion stylist yang juga brand ambassador UBS Gold Carendelano bersama fashion designer Yosep Sinudarsono. Tapi, kali ini UBS Gold juga melibatkan fashion designer lain, yakni AMOTSYAMSUrIMUDA, Wilsen Willim dan Yosafat Dwi Kurniawan.
Tema Evolution of Fun diangkat untuk mengajak customer yang telah dewasa untuk kembali bersenang-senang dengan Mickey Mouse yang menjadi sahabat masa kanak-kanak tiap orang. ''Mickey Mouse merupakan memori bahagia yang tak terlupakan dalam hidup walaupun kita telah menjadi dewasa,'' ujar Creative Director UBS Gold Erwin Suganda.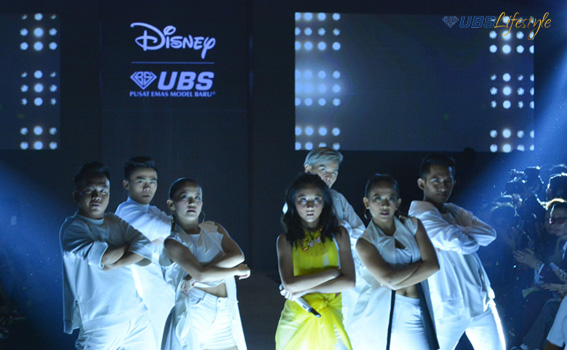 Acara dibuka dengan suasana kota besar dengan gambaran kes- ibukan serta tekanan sebagai orang dewasa sehingga semua memori indah bersama Mickey hanya tinggal di dalam kotak besar berbentuk kepala Mickey berwarna kuning. Tiba-tiba, muncul seorang anak kecil yang diperankan Dominique Chloe, berjalan sambil menari-nari bahagia menuju ke kotak memori.
Penyanyi yang sedang naik daun, Chloe X lantas membuka kotak memori dengan nyanyian Dancing in Paradise dan terbukalah kotak tersebut dengan menampilkan keajaiban Disney Mickey Mouse bersama perhiasan UBS Gold bersama seorang remaja. ''Sekarang kesenangan dari kenangan Disney itu telah berkembang dan berubah dalam bentuk fashion. Yakni, perhiasan emas Disney yang modis dan berharga dari UBS Gold,'' ungkap Erwin. Secara umum, Evolution of Fun menampilkan koleksi gaya Urban Glam Street Style untuk day and night serta keunikan koleksi yang bisa dikenakan wanita dan juga cocok untuk pria. Dalam runway di Jakarta Fashion Week, UBS Gold didukung pe- nampilan banyak influencer. Antara lain, Miss Indonesia 2018 Alya Nurshabrina, Patricia Gouw, Veronika & Valerie, Dara Warganegara, Anastasia Siantar, Millane Fernandez, Cindy Karmoko, Amelia Salim, Patricia Devina Dextra, Jovi Adhiguna Hunter, Natasha Mannuella, Lucky Oetama, Wisnu Genu, dan Dominique Chloe. Acara ini juga di-support canapes oleh Nomz restaurant, sepatu oleh Dekafe Shoes dan tas oleh Rounn Bag. (tih/wir)
(Jawa Pos, 4 November 2018)